Martin Gerschwitz
Keyboards, Violin and Vocals Instructor
Lessons: $45 per 1/2 hour.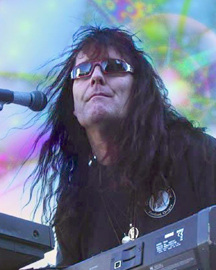 Martin Gerschwitz is a classically trained German born keyboard master. At the age of sixteen, Martin performed classical music with big german Orchestras.
In 1967, his older brother, who is a very successful Cello player, influenced Martin with the Rock-n-Roll genre, and it was then that Martin put together his first band called "The Avengers"!
For several years Martin performed on the European scene playing with famous German bands as well as international singers, including being the keyboard player for "Percy Sledge" (When a man loves a woman), who he played with all over Europe.
It was in 1978 when Martin formed his own American style rock band called "Break Point".
They recorded an album in 1981 called "First Serving", and they toured successfully throughout the American Military Circuit in Europe.
It was in 1985, right after Martin moved to the United States of America, that Tim Bogart (ex-Vanilla Fudge bass player) asked Martin to join his band (Tim Bogart and the fabulous Violations).
By the end of 1985, Martin had the honor to share center stage with great performers, such as "Loverboy", Steve Stevens (of Billy Idol fame), and "Eddie Van Halen"… just to name a few!
As of today, Martin has performed in over 10,000 live events worldwide, which include solo appearances with orchestras in Germany. European Rock Festivals, the Russian Rhythm & Blues Festival, the Singapore Blues Festival, concert tours in the Persian Gulf countries. and the Iceland Rock Festival. Martin has also toured the US and the world with acts such as:
"Lita Ford"
"Meat Loaf"
"Vanilla Fudge"
"Kingdom Come"
"Walter Trout Band"
In the summer of 2003, Martin recorded yet another CD, the first one with his own band "Martin Gerschwitz & Friends" (featuring band members from "The Animals") Touring Europe several times, mostly throughout Germany and Benelux, Martin Gerschwitz and his band released a Live DVD: "Martin Gerschwitz & Friends Live" (concert DVD in Frankfurt, Germany in November 2004) One year later, in November of 2005, Martin became (and currently still is) the keyboardist and lead vocalist for the 60′s rock band "Iron Butterfly" (well known for their monumental hit song/album "IN-A-GADDA-DA-VIDA")! "Iron Butterfly" just wrapped up a successful tour of Europe (9/20/10 – 10/26/10) throughout 12 different countries.