Tommy Benson
Guitar, Bass and Ukelele Instructor
Lessons:
$35 per 1/2 hour with purchase of 4 lessons.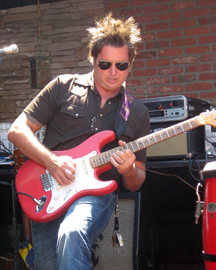 Tommy "Tribute" Benson is a professional player and music educator in Southern California. As a child, Tommy shared the stage with the Famous Al Green and went on to perform rock guitar with many different acts, including Vegas tribute bands for Guns n' Roses and Motley Crue!
Formally trained at the Players School of Music in Tampa Florida in their jazz guitar performance program. Tommy loves being part of the Kenny's Music family and teaches all styles of guitar as well as ukulele! He can be heard playing live on-air on "Jazz Quest Radio" a local radio show he hosts on KX 93.5 in Laguna Beach, CA. Music lessons with Tommy Benson can be arranged by contacting Kenny's Music Store at (949) 661-3984.
Teaches many genres:
Classical
Funk
Punk
Rock
Heavy Metal
Jazz